Restaurants & Bars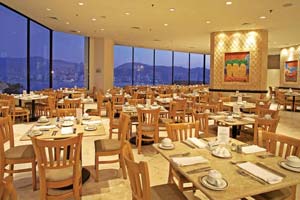 Bahia Restaurant
The magnificent Bahia Restaurant provides more than spectacular views of the Acapulco Bay. Breakfast and Dinner are served next to one of Acapulco's most lavish buffets, with plenty for everyone served fresh and with key special dishes every day. Our delicious Mexican breakfast buffet is a particular crowd-pleaser and themed dinners mean you can enjoy dishes prepared special every night of your stay.
Buffet
Breakfast: 7:00 a.m.-11:45 a.m.
Dinner: 6:30 p.m.-10:30 p.m.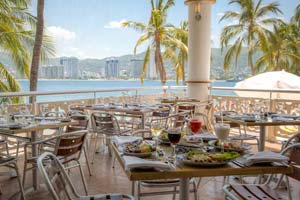 El Pescador
Lunch at the Park Royal Beach Acapulco is celebrated everyday at El Pescador, a truly monumental open-air restaurant. Ocean-view dining is provided just off the deck of the main swimming pool. With a spectacular buffet and carefully chosen and prepared a-la-carte specials, guests enjoy our legendary ceviches, magnificent salads, grilled sea food, and of course, the catch-of-the-day, every day.
Lunch: 1:30 p.m.-4:45 p.m.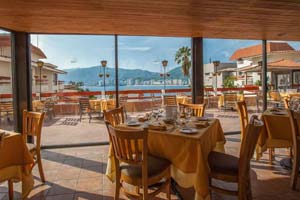 La Trattoria
Mouth-watering Mediterranean fare is served up with flair and style each night at La Trattoria where our Italian chefs specialize in some of Acapulco's finest Italian cuisine. With endless dessert and anti-pasta bars, you'll feast on some truly mouth-watering specials, and, of course, a follow-up cappuccino or espresso is mandatory. Heartbreaking views included.
Dinner: 7:00 p.m.-11:00 p.m.
• Reservations required.
• DressCode (Long sleeves & close-toed shoes required. No shorts, sandals or sneakers.)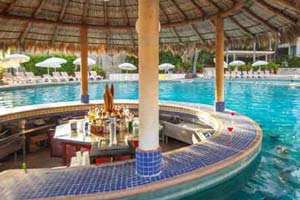 La Langosta
11:00 a.m. - 7:00 p.m.
Your favorite tropical drinks and cocktails are served up and you never need to leave the pool.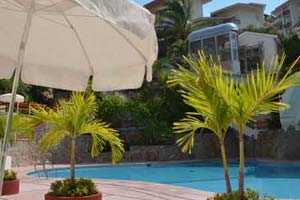 La Margarita
11:00 a.m. - 7:00 p.m.
The center swimming pool is also home to La Margarita, where cold drinks and cocktails are served all afternoon.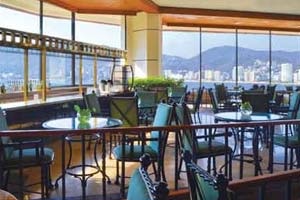 Lobby Bar
11am - 1am (Monday to Saturday) / 1pm - 1am (Sunday)
With heartwarming views of Acapulco and the bay, the Lobby Bar is a lively place to reconnect with your travel companions before and after every trip in and out of the hotel.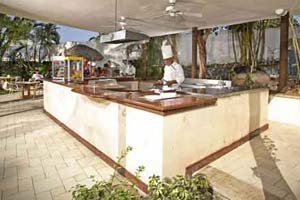 El Jardin
Mon-Sat: 11:45 a.m.-6:00 p.m. Sundays: 1:00 p.m.-6:00 p.m.
El Jardin serves up lighter fare & munchies, all afternoon, by the main swimming pool.